Malheur River Trail #303, Malheur National Forest, Oregon
Outside of Wilderness Areas, the southern portion of the Malheur National Forest has very few hiking trails. This is the legacy of several factors including the twin land management policy of intensive timber harvest combined with cattle and sheep grazing. It is also a factor of the open, gentle terrain where one can easily wander just about anywhere without needing a trail. The trails that do exist are neither heavily used nor well maintained, however one of them at least, is a real gem. This is the Malheur River Trail which follows the river through a deep canyon for about seven and a half miles. Many people would describe this section of river as a wide creek and it remains fordable much of the year. The tail is closed to bicycles and motorized vehicles.
Elevation lies between 4400 and 4700 feet. With easy grades and a generally downhill slope from where the trail begins at Malheur Ford in the north, to where it ends at Hog Flat in the south, the trail makes comfortable hiking even for beginners. Down in the canyon, ponderosa pines line the river. Wide grassy benches make good camping. Visitors are few. Cattle are supposed to be excluded, but a few strays wander in from time to time. Water is plentiful, a big plus in such dry country. Getting in and out of the canyon at locations other than the trailheads is difficult and requires highly capable llamas and an excellent knowledge of the landscape. Downstream from the Hog Flat Trailhead, the old trail ventures into private ground for a short distance, then into Burearu of Land Management (BLM) lands. The BLM portion of the canyon is trail-less and rugged, so for all practical purposes there is no access from the south or opportunity to follow the river farther.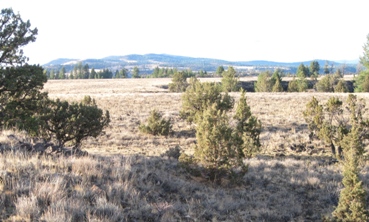 The Canyon itself is cut like a jagged ditch in the surrounding table lands. These tables provide an excellent area to wander, particularly in the vicinity of the Hog Flat trailhead, where meadows stretch for miles.
Access to either trailhead requires approximately 10 miles of high quality graveled forest roads which are generally in good condition. Camping (no facilities) is available at the trailheads at either end of the trail. Persons wishing to extend their explorations may simply wander off into the forest on either side of the canyon, although away from the river you will share your space with numerous cows.
Hazards consist of the normal annoyances for this area: cows, rattlesnakes, cougars, forest fires, and in season, mosquitoes. The trail is only occasionally maintained. Expect to encounter fallen logs and stretches of narrow tread.
Pleasures center around solitude, swaying pine trees, and the chuckling of a happy river.
More information may can be obtained from http://www.fs.usda.gov/recarea/malheur/recreation/hiking/recarea/?recid=40060&actid=50